October News Bulletin
Oct 15, 16, & 25 – Stringtown-Lane Fall Classic Tournament at Lane Gym. Go to Extracurricular tab for game times.
Parent/Teacher Conference: October 16th at 4:00pm. All parents are encouraged to attend. No After School Program this day.
Gradebook: You can check your child's grade (K-8) at any time using the Gradebook tab. There is also a form to request a username and password if you have not logged in previously.
Basketball Games begin this month: Check the District Calendar or go to the Extra-Curricular tab and select Athletics for a complete schedule.
Basketball Games: Oct. 30th Caney 5th-8th at 4:00pm at Harmony; Oct. 31st at Tushka – 5th-8th at Noon.
Fall Break: October 17-19
Red Ribbon Week – Oct. 29-Nov. 1: Monday – Matchy, Matchy (find a group of friends to match; Tuesday – Crazy Hat/Socks; Wednesday – Halloween Costume; Thursday – School Spirit
Halloween Parties: Oct. 31 at 3:05pm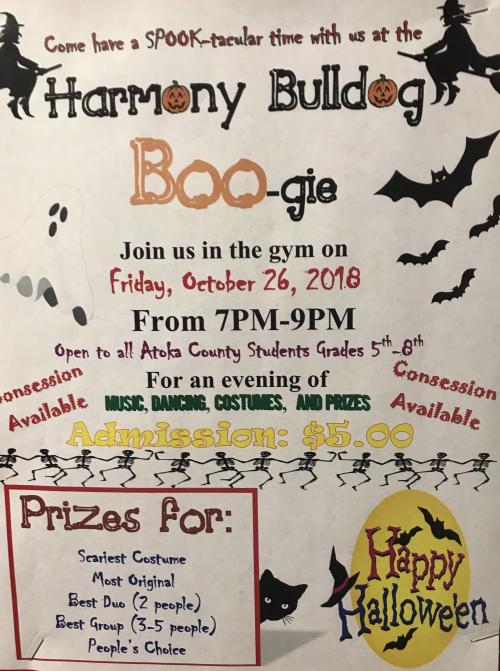 Sports and Retake Pictures: November 1st
Flu Shots for Students and Staff: November 1st – Provided by Choctaw Nation. Watch for permission forms.
Book Fair: November 8th-15th in the Saferoom
Subscribe to Calendar: Go to Quicklinks to subscribe to our District Calendar. Keep up with school events through the calendar on your cell phone!
PTA: Please save Box Tops and Pruett's receipts to help raise money for our PTA.
Before and After School Program for PK3-4th grade begins onTuesday, September 4th. This program will be Monday through Thursday, 7:00am to 5:15pm. There will be no After School Program on Parent/Teacher Conference dates.
Tutoring for 6th-8th grade students will be available for all subjects at 7:00am each morning in Mrs. Cochran's classroom.